NOW AVAILABLE: THE 2021 MEDIA SALES REPORT
The 2021 Media Sales Report studies the landscape over the past year, including the expectations for sales managers and the strategies deployed by media salespeople to assess their effectiveness across five key topics:
Sales Department (Structure, People, Compensation)
Learning and Development
Setting Appointments and Sales Process
Sales Enablement
Industry Outlook and Culture
Download it now for the key findings from The Center for Sales Strategy's 2021 Media Sales Report – and see how you can use these insights to drive sales performance in the year ahead.
NOW OPEN: 2022 Media Sales Surveys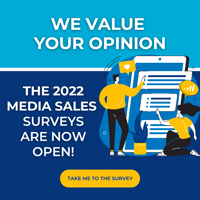 We value your opinion. Whether you are a sales manager or a salesperson, we would love to have your insights reflected in the 2022 Media Sales Report (to be published toward the end of the year).
Click here to take the 2022 Media Sales Survey!